You are here
Borneo Kumai Tanjung Harapan 5 Days Tour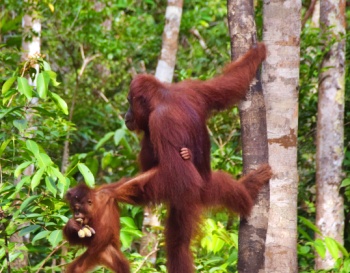 DAY 1: PANGKALANBUN - TANJUNG KELUANG - CONSERVATION (L, D)
Borneo Kumai Tanjung Harapan 5 Days Tour starts with a pick-up service by a tour guide and driver at Pangkalanbun airport. Then visit Kubu village to explore Tanjung Keluang Beach. Then towards Reserve Camp, which is known as the turtle conservation project. Drive to the houseboat, have a meal, and rest.
DAY 2: KUMAI - KRIKIL CAMP - SEKONYER (B, L, D)
Breakfast on a boat then sails to the Buluh River by speed boat to cross Kumai Bay and enter the Buluh River. Take a boat to Gravel Camp to see the Orangutan habitat. Continue to Sekonyer River by crossing Kumai Bay and enjoy the natural beauty of the bay. Go back to the houseboat and rest.
DAY 3: CAMP LEAKEY - BLACK RIVER - ORANGUTAN (B, L, D)
Breakfast on a boat, and visit Camp Leakey bypassing the Black River. Continue doing the light climb to see wildlife such as Orangutans, Gibbons, and various Birds. Back to the ship for lunch and at 14.00 join the Orangutan feeding program. Back to Klotok boat and resting.
DAY 4: PONDOK TANGUY - PASALAT - TANJUNG HARAPAN (B, L, D)
Breakfast on board, the trip for 2 hours to Pondok Tanguy to watch the ranger feeding Orangutan. Then go to Pasalat Camp for the Carbon Offsetting event, which is a tree-planting program. Then return to the boat and head to Tanjung Harapan to visit the last orangutan. Watch the ranger feeding the Orangutans in the afternoon time. Return to the boat and head for Nipa Palm to see the beauty of thousands of fireflies. Meal and overnight on a boat.
DAY 5: KUMAI - PANGKALAN BUN - DEPARTURE (B)
Breakfast on board, then back to Kumai and then to the Airport of Pangkalan Bun for return. The Borneo tour finishes.
BORNEO TOUR INCLUDED:
Private transport, AC deluxe
Airport transfer
Riverboat Klotok
Accommodation on the boat for 2 nights
English-speaking tour guide
Ranger at the National park
All the admission, parking, and donation fees
Meal served on the boat
Mineral water
For the best price, please info your travel date and participants here