You are here
Semarang City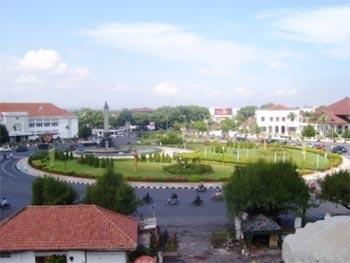 Semarang City is the largest city in Central Java province, and it is the capital city. In the early time, this place was muddy plains, which later evolved into advanced rapidly and appeared as an important city. As many large cities absorb immigrants, they made for living and settled in Semarang to end after the next life.
There was a prince from the Demak Kingdom named Raden Made Pandan Arang in the past time, who left the kingdom and went to Semarang to spread the teachings of Islam religion. From time to time, the land was getting more fertile region and busier. From the sidelines, it appeared fertility tamarind tree that rarely, thus giving the name Semarang.
Semarang has a harbor of Tanjung Emas, and it is large enough that becomes a business city. Plenty of old buildings were built by the Dutch and are still in good condition. They are very well maintained, and plenty of textile factories have export quality. Having a considerable potential market and playing an important role as a trade center.
Some tourist attractions and local foods in Semarang:
Dutch heritage buildings: the Blenduk Church and Lawang Sewu
Natural attractions are located in the mountains south of Semarang
Shore excursions: Golden Horn, Coastal Marina
Local food: Tahu Baxo, Loenpia, Wingko Babat, Bandeng Presto