You are here
Ceto Temple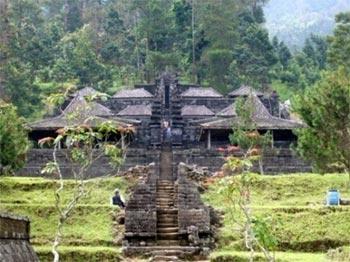 Ceto Temple is also well known as Griya Asri means The Nice Building. Ceto temple lies in Ngargoyoso village, Karanganyar, Solo. The temple was made from andesite stone from the mountain nearby. The shape staircase steps consist of 8 levels of the stage. It consists of four square levels, and two levels are rectangular.
They are some turtle statues at the front gate of the temple. The interesting part of this temple is the painting's presence on the one-page floor. Turtle-shaped swims with a circle on the backside with the head triangular.
The temple is located higher than the Sukuh temple. That is why the higher place will make the trip to the Ceto temple will be more exciting. The atmosphere is calm, and peaceful and can be felt around the temple as the name suggests Ceto, which means quiet.
Ceto temple is more visited by Hindu people nearby and sometimes from Bali Island. They visit Ceto to pray for what they dream in life, and they will come back to their dreams already come true. The best time to visit the Ceto temple is in the morning time between May to October.