You are here
Jomblang Vertical Cave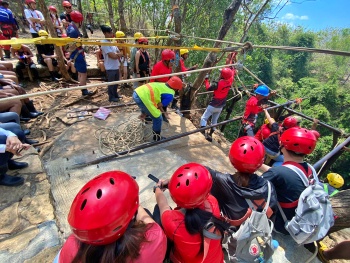 Jomblang Cave is a vertical cave and it lies in Jetis village, Pacarejo, Semanu, Gunungkidul, Yogyakarta. The Jomblang Cave is one of 400 caves in the Gunungkidul Regency which is a highlight touris spot to visit. The cave is a vertical distance of about 80 meters, and connects to Grubug cave, where is at the northen part of Jomblang.
The Jomblang adventure caving is requiring the ability to explore the vertical cave technique using rope as a path to go up and down a vertical field. The diameter about 50 meters, and it was visited and explored by the Speleological Club in 1984, a group of cave explorers from Yogyakarta. According to the local people, the cave was used for the mass murder of Communist party members in 1970. The incident was made ​​by local people for fear for a long time, and the Jomblang cave was untouched by humans so far. In 1990, the local people made a ceremony and prayed in the cave, and it was no longer scared to explore the cave
Reaching the Jomblang vertical cave is a little difficult and tiring, but it will paid off after going down into the hall, there is a view of awesome silhouettes, some trees growing on the walls, and overgrown shrubs.