You are here
Kawah Putih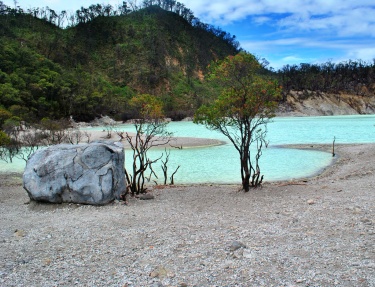 Kawah Putih is a tourist spot at the foot of Mount Patuha, Rancabali, Bandung Regency, West Java. This White Crater was formed from the eruption of Mount Patuha and the eruption formed the shape of a lake. The name Kawah Putih itself is because the soil around it is white. Apart from that, why this crater is called the white crater is because the water is greenish white, and will change color to become slightly dark or light. It all depends on changes in sulfur content, temperature and weather.
Kawah Putih is at an altitude of 2,400 meters above sea level. This height has an impact on the temperature around the White Crater area, around 8 - 22 degrees Celsius. Kawah Putih has an area of ​​around 25 hectares. Kawah Putih is a tourist spot with a unique attraction due to the color of the soil and water in the lake. This is a special attraction for domestic and foreign tourists. Tourists can also do various activities such as taking selfies, painting, taking photos for weddings, climbing and horse riding.
Before the Dutch occupation of Indonesia, around the beginning of the 10th century, Kawah Putih was a haunted place because many birds died when passing through Kawah Putih. In the past time, Kawah Putih was the site of a sulfur factory called Zwavel Ontgining Kawah Putih during the Dutch colonial era. It was then revealed that the white crater was a lake formed as a result of the eruption of Mount Patuha.
Dr. Franz Wilhelm Junghuhn, who was a researcher and developer of cinchona plants in West Java at that time, tried to reveal the facts about Kawah Putih. From this discovery, Kawah Putih was used as a sulfur factory called Zwavel Ontgining Kawah Putih. After the Dutch occupation of Indonesia, the Kawah Putih area continued to operate as a sulfur factory, and became Kawah Putih Kenzaka Gokoya Ciwidey. During the Japanese occupation it was still a sulfur factory and not yet a tourist attraction. Kawah Putih became a tourist attraction in 1987 and is managed by PT. Perhutani (Persero) Unit III West Java and Banten.