You are here
Tumpaksewu Waterfall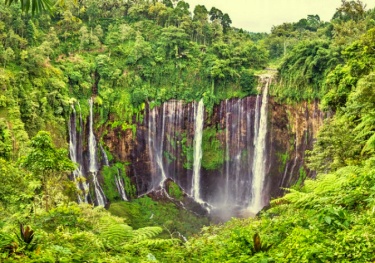 Tumpaksewu Waterfall or more familiarly known as Nirvana Cliff, is a tourist attraction that has an extraordinary exotic waterfall. Located in the tourist village of Sidomulyo, Pronojiwo subdistrict, Lumajang district, East Java, about 55 km south of Lumajang city center.
You will be pampered with the stunning views and exoticism of Tejun Water and has a natural water source from the Semeru mountains. Tumpak Sewu itself has the name of a stacked waterfall, meaning that Tumpak Sewu Waterfall is a combination of many existing waterfalls gathered in one estuary.
About 15 minutes walk down to the panorama point on foot on a sloping path. The surrounding village community is quite special, they work together to build road access independently to the Tumpak Sewu Waterfall tourist attraction. Tumpaksewu waterfall offers views of towering cliffs and is surrounded by semi-circular water spills from cliffs surrounded by natural lush green trees.